Vodacom hands over 167 new cold chain units valued at R2.4 million to North West Health Department to support South Africa's vaccine drive
Tuesday, 3 May 2022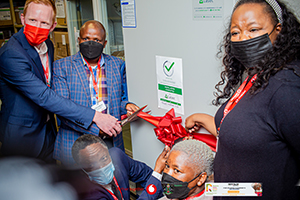 MAHIKENG: To bolster COVID-19 vaccine storage and delivery, particularly to more remote areas in South Africa, Vodacom and the North West Department of Health are pleased to announce the distribution of 167 new cold chain units, worth R2.4 million, across the province. The handover took place on Friday at Gelukspan District Hospital in Mahikeng in the presence of North West Health MEC, Dr Madoda Sambatha.
Vodacom Group and Vodafone Foundation have donated R74 million in the procurement of cold chain equipment, ensuring the safe delivery and administration of COVID-19 vaccines and other life-saving medicine, to several countries in sub-Saharan Africa. South Africa has received 2 197 units of this essential equipment.
The 167 cold chain units donated to the North West Province consist of four vaccine freezers, 25 ice-lined vaccine fridges, 50 cooler boxes, 85 electronic temperature loggers, one remote temperature device and two remote probes.
The equipment is being distributed to 38 sites across all four districts: Bojanala Platinum, Dr Kenneth Kaunda, Dr Ruth Segomotsi Mompati, and Ngaka Modiri Molema.
"It is critical that all citizens in South Africa have greater access to safe vaccines in the fight against the COVID-19 pandemic. Through the distribution of cold-chain equipment, we are ensuring that vaccine delivery and management can be more effective, especially in underserved areas of the province, and helping to save lives," says Lwandile Booi, Executive Head for Vodacom Gauteng Region.
A safe and effective inoculation drive is dependent on robust and reliable cold-chain management, as vaccines require uninterrupted refrigeration at certain temperatures. If the cold-chain is broken at any point from arrival to administration, the integrity of the vaccines may be compromised. This means they become potentially unsafe for immunisation.
Limited cold-chain capacity is one of the challenges to increasing vaccination rates across Africa. In a survey of 34 African countries by the African regional office of the World Health Organization (WHO), 31% of countries had gaps in cold-chain storage in more than 50% of districts.
"Beyond the COVID-19 pandemic, this distribution of cold chain equipment can assist with the roll-out of other life-saving vaccines and medicine, such as child immunisation programmes. Through our ongoing strategic partnership with government, we are upholding our social contract and improving the lives in the communities we serve and building a better future for all," adds Booi.

View previous press releases