Vodacom Limpopo takes action against ongoing battery theft and vandalism to maintain customer connectivity
Wednesday, 20 September 2023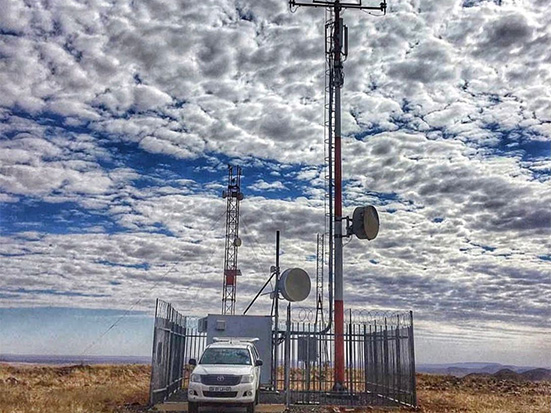 POLOKWANE – Vodacom Limpopo continues to face the ongoing issue of theft and vandalism at its base station sites. The region experiences an average of 65 incidents of vandalism a month, with a staggering 60% related to battery theft.
"Theft and vandalism continue to persist at our base station sites. An estimated 30 to 40 batteries are stolen monthly and copper cables and backup generators are increasingly becoming targeted items. The severe costs of this criminal activity extend to more than just fixing damaged sites and replacing equipment but to communities, who experience network outages and a loss of connectivity when they may need it most," says Ridwaan Soomra, Managing Executive of Vodacom Limpopo Region.
Cellular base stations, particularly in remote areas of the province, are often the only source of connectivity, which is disrupted after theft and vandalism incidents and incur downtime for network service restoration. Not having access to communications can have a serious impact on customers, especially in an emergency with the inability to make a call potentially putting lives at risk.
Replacing stolen cables and batteries costs tens of thousands of rands per site, excluding downtime and lost revenue during network outages. With the installation of backup power solutions at base station sites to mitigate the effects of load-shedding on network services, thieves are now setting their sights on generators and the diesel and batteries needed to operate backup equipment. This increasing trend has been particularly prevalent in the Tzaneen and Giyani areas of the region.
In addressing theft and vandalism at base stations, Vodacom Limpopo has invested in accelerated security measures, such as deploying surveillance cameras and armed security response to hotspot areas. In addition, advanced technologies and access controls have been introduced to limit unauthorised access to sites. The region is also engaging with the Community Policing Forums and creating awareness among local communities about reporting criminal offences. However, these efforts are an ongoing process, as criminals become more sophisticated. For example, many are now using industrial tools to break into sites and swiftly ransack them before security response can arrive.
Despite the challenges, Vodacom Limpopo has achieved successful convictions, thanks to effective collaboration with the Provincial Organised Crime South African Police Service Unit, security stakeholders and local communities.
Last month, the Villiers Regional Court in the Free State sentenced two thieves, who were caught along the N3 going to Johannesburg in possession of batteries belonging to Vodacom to 12 years in prison. 
"While we remain committed to seeking justice and protecting critical infrastructure from criminal activity, the greatest deterrent is community involvement. This is why we are calling on the public to remain vigilant and report any suspicious activities near base station sites. By working together, we can ensure essential uninterrupted connectivity for all," concludes Soomra.
Vodacom would like to appeal to citizens to report incidents of battery theft or site vandalism by calling its toll-free number: 082 241 9952 or SAPS on 10111.
View previous press releases